Benefits of K7 Ultimate Security
Infiniti Edition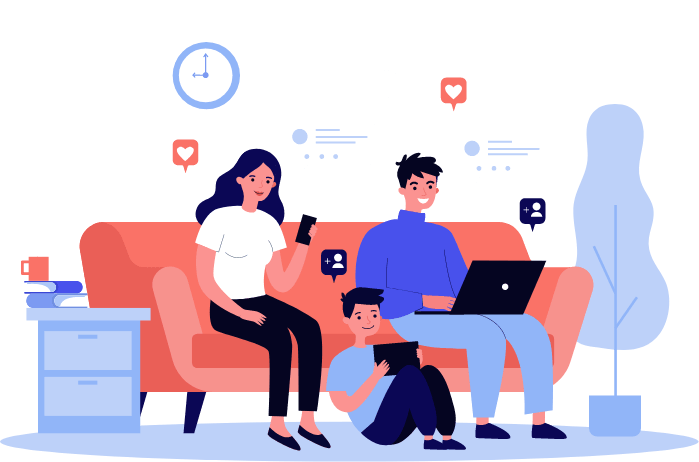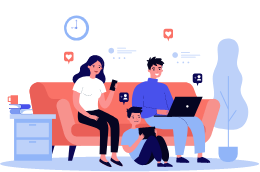 Life-long* antivirus protection up to 5 devices for your family
Whether it's your Computer, Laptop, Mobile or Tablet, K7 Infiniti provides the ultimate antivirus protection for upto 5 devices at home.
Celebrating 30 years of
cyber security with a
lifetime of protection
5 Devices / No renewal required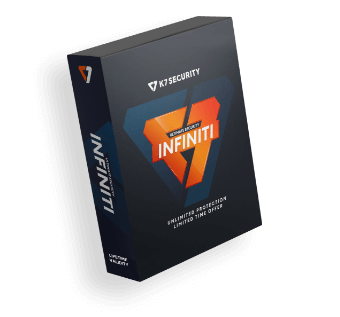 Features of our awarding winning Antivirus
Threat Protection
• Anti-Malware • Anti-Ransomware • Email Scanner • Vulnerability Scanner • Exploit Protection
Advanced PC Security
• System Monitor • USB Vaccination • External Device Scanning • External Device Blocking • Webcam Protection • Data Locker
Product Update
• Update through Internet or Proxy • Local Update Server • Always Active Update
Internet Security
• Smart Firewall • Wi-Fi Advisor • Intrusion Detection & Prevention • Website Filtering • Browser Protection • Drive-by Download Blocking
Web Protection
• Safe Search (Cloud based annotation for search URLs) • Safe Surf (Cloud based website verification and blocking for Phishing and Unsafe sites) • Anti-Spam • Phishing Site Blocker • Malicious Site Blocker • Identity Protection
Privacy / Parental Controls
• Category Based Website Blocking • Cookies/ActiveX/Java Applets Blocking • Ad Blocking • Application Control
PC Tuneup Tools
• Windows Temp Cleaner • Internet Temp Cleaner • Virtual Keyboard • System Performance Tuner • Secure Delete • Disk Optimizer • Activity History Cleaner • IE History Cleaner • Browser Cleaner • Windows Registry Cleaner
Data Backup & Restore
• Local & Network Backup • CD/DVD/USB Backup • Quick Data Restore from External Devices

Excellent protection against malicious URLs
Effective ransomware protection

Top Product Rating
AV-Test, Germany

Simplest UI
Quickest installation
Get K7 Ultimate Security Infiniti Edition
Please enter your active email address above. We will email your purchase receipt, links to download K7 Ultimate Security Infiniti and installation instructions to this email address.
You have to accept the privacy policy and terms & conditions.
Product and offer details
This is our infiniti edition of K7 Ultimate Security.
Award winning protection for up to 5 devices.
No renewals required, this product is valid for lifetime.
Convenient subscription that makes it easy to protect all your Windows, macOS, Android and iOS devices.
Multi-layered data security and information security.
Data backup and restore and identity protection (Windows).
Protects against all kinds of malware (including ransomware), phishing, APTs, spam, webcam spies, malicious websites and other cyber threats (varies with platform).
Complete access to K7 Ultimate Security updates and upgrades on supported platforms.



Frequently Asked Questions
What is the K7 Infiniti Offer?

Antivirus products are usually offered on a subscription basis, where you receive malware definition updates during the subscription period, and you have to keep renewing your subscription. The K7 Infiniti Offer only requires a one-time payment for which you get malware definition updates and new feature updates as and when they are released. With no renewal ever needed again, i.e., you only pay once and enjoy lifetime protection.

Which K7 antivirus is covered by the Infiniti Offer?

This is an antivirus bundle that protects any 5 Windows, Mac, Android, or iOS devices i.e., you can protect 5 Windows devices or 2 Windows + 1 iPhone + 1 iPad + 1 Android device or any other combination of 5 devices. The one-time payment gives you feature and malware definition updates for all 5 devices.

How does the K7 Infiniti Offer improve my cybersafety?

The malware definitions that are updated multiple times a day are critical to cybersafety. K7 Labs analyses hundreds of thousands of malware samples every day, which indicates the volume of threats that a netizen faces on a daily basis. Any antivirus is only as good as its last update, and the Infiniti offer ensures that you continuously receive the latest updates without any breaks that might occur due to subscription expiry. Put simply, the Infiniti Offer ensures life long peace of mind.

Which type of users benefit from the K7 Infiniti Offer?

Any home user who uses multiple devices, or whose family uses multiple devices, will benefit from this offer. The antivirus is designed to satisfy the needs of different types of users. K7 Security won the Gold award from AV-Comparatives for Best Overall Speed in 2020, which means that K7's ultra-efficient scan engine does not slow down your device or affect its performance, even while gaming. The very low bandwidth consumption also ensures that your movie streaming or video conferencing will never be affected by updates downloading in the background.

The Infiniti Offer is nice, but how good is the antivirus protection?

25+ million users across 100+ countries trust K7's antivirus. We protect against viruses, ransomware, trojans, web threats, phishing, and zero-day attacks. Our mobile device protection includes real-time device tracking for protection against device theft.

K7's protection also consistently wins awards from international antivirus testing agencies like AV-TEST (Germany), AV-Comparatives (Austria), and Virus Bulletin (UK). Do visit their website and be assured of our performance and efficiency.

This is great! How do I use the K7 Infiniti Offer?

You only need to install and activate the product after purchase. Infiniti lifetime validity is automatically applied.

My existing antivirus product expires in 30 days can I use the offer then?

The offer is valid only for a limited period. Buy the product now under this offer and activate as soon as your other product expires. Celebrating three decades of protecting millions of customers, this is a limited period offer and for the first 50,000 customers only.

Why is this a limited time offer?

Celebrating three decades of protecting millions of customers, this offer is a token of appreciation to all our valuable customers.

Will the product take care of upgrades and version changes done by the OS company?

The Infiniti lifetime validity is linked to the validity of the Operating System (OS) and will be active as long as the OS is supported and active.

Lifetime validity is defined as, and is linked to, the validity until the end of the life of the supported versions of operating systems. See below in supported OS for the same.

If Windows or Android releases an update, will my antivirus still work?

Yes, the K7 Ultimate Security Infiniti Edition will be active for all supported OS.

If iOS or Mac releases an update will my antivirus still work?

Yes, the K7 Ultimate Security Infiniti Edition will be active for all supported OS.

My system crashed unexpectedly and its only two months since I got Infiniti offer, what should I do?

Call our support, and you will be advised on how you can re-activate the K7 Ultimate Security Infiniti Edition.

Will I get a physical product and will I get it shipped to me?

The K7 Ultimate Security Infiniti Edition can only be purchased online and the user will not get a physical product or pack. All you need is an active internet connection to download and activate the offer.

From where should I download the installation file of the Ultimate Security Infiniti Edition?
© 2021 K7 Computing Pvt Ltd. All Rights Reserved.